Almost stopped even on his feet.

, #NYJvsCLE on CBS
: NFL+ . stream on https://t.co/5tBLYXUhpL pic.twitter.com/Ouek4hoYar

— cleveland brown (@brown) September 18, 2022
Good Morning Hope everyone had a good weekend.
Brown debuted its new brownie-glowing sphere yesterday. As you can see in the video clip above, it looked really cool. Here's hoping they stick to it for a long time.
Also, it's a little hard to see in this screen shot, but Brown has also placed the brownie on his goalpost padding and modified the stripe pattern of the padding:
I like that!
In other news from a very uneven Sunday around the league:
Obviously, there's nothing new about the Packers/Bears game at Lambeau – happens every year. But hot damn, I never get tired of what a great looking uni matchup this is:
Do your work, @trevisgipson I

, #CHIVsGB NBC. Feather pic.twitter.com/kDBGKn8rqz

— Chicago Bears (@ChicagoBears) September 19, 2022
With the Giants in their home opener yesterday, coach Brian Dabol wore an "FDNY" cap on the side, apparently as a sign of 9/11 after the team was on the road last Sunday.
Speaking of coaches with the delayed headwear logo, Raiders coach Josh McDaniels had a visor with the NFL Centennial logo from 2019:
@UniWatch @sportslogosnet Las Vegas Raiders head coach Josh McDaniels wears the NFL's 100th anniversary visor on the sidelines today. He was not part of the Raiders during the 100th anniversary and the Raiders were still in Oakland. pic.twitter.com/2t4sGAZatw

— skippy8778 (@StiebFan37) September 18, 2022
Several people noted that the Ravens' jersey appeared much lighter/brighter than usual, leading to a significant color mismatch between their jersey and their helmet:
Rams cornerback Jalen Ramsey wore yellow socks while the rest of the team wore blue socks. Not sure if we've seen this before:
Books quarterback Tom Brady vents his frustrations by throwing a sideline tablet signature move For him):
Tom Brady threw his tablet in despair. pic.twitter.com/d6QTX8dRyV

— TSN (@TSN_Sports) September 18, 2022
It's nothing new, but Lions running back D'Andre Swift (the best name ever for a running back, right?) has "dead-eyed shush" thigh pads. Some photo research indicates he's been wearing them since the middle of the 2020 season, but I don't think I'm aware of that until now.
And that's all I have. cool week!
(My thanks to Gabe Cornwall, Steve Lim, Mike Malnikoff and John Turney for their contributions to this section.)
blast from the past
Back in 1973, MX Turner, a 12-year-old Scott, visited the Basketball Hall of Fame in Springfield, Mass., and took the two snapshots shown above. "That was the extent of the jersey's performance," Scott says. "Nothing closes to the grandeur of Hafjrd and the big productions of today. Also, no one was making replicas or additions for display or retail. I mean, index cards taped to headless mannequins (which depict all white people)! Still, I loved it – the duren jersey and satin shorts. None of the other artifacts were as good. not even close."
Scott says the uniform breaks down like this:
Cincinnati Royals No. 16: Jerry Lucas
Seattle SuperSonics No. 14: Tom Mescheri
Los Angeles Lakers No. 13: Wilt Chamberlain
St. Louis Hawks No. 16: Cliff Hagan
New York Knicks No. 4: Karl Braun
UCLA No. 33: Lew Alcindor
University of Louisville No. 31: Wes Unseld
St. Bonaventure No. 31: Bob Lanier
Niagara University No. 23: Calvin Murphy
Jacksonville State Number 53: Artis Gilmore
University of Houston No. 44: Alvin Hayes
great stuff. As it happens, the Basketball Hall of Fame is one of the only major halls I haven't visited – even though it's actually closer to NYC than any other! It needs to be rectified soon.
If only Bart and Milhouse would have been there on time
Longtime reader Timmy the Cop visited the East Tennessee Heritage Center yesterday. The museum has an exhibit at the 1982 World's Fair in Knoxville, including a section of the fair's sporting events. I especially love this softball poster – Sensational!
Here are some additional photos Timmy sent along:
Uni Watch HQ Updates
With Mary ready to move out, I've started making some decorative adjustments here at Uni Watch HQ. I'm especially pleased with the new shower curtain – the heck of a mid-century!
Contest Reminder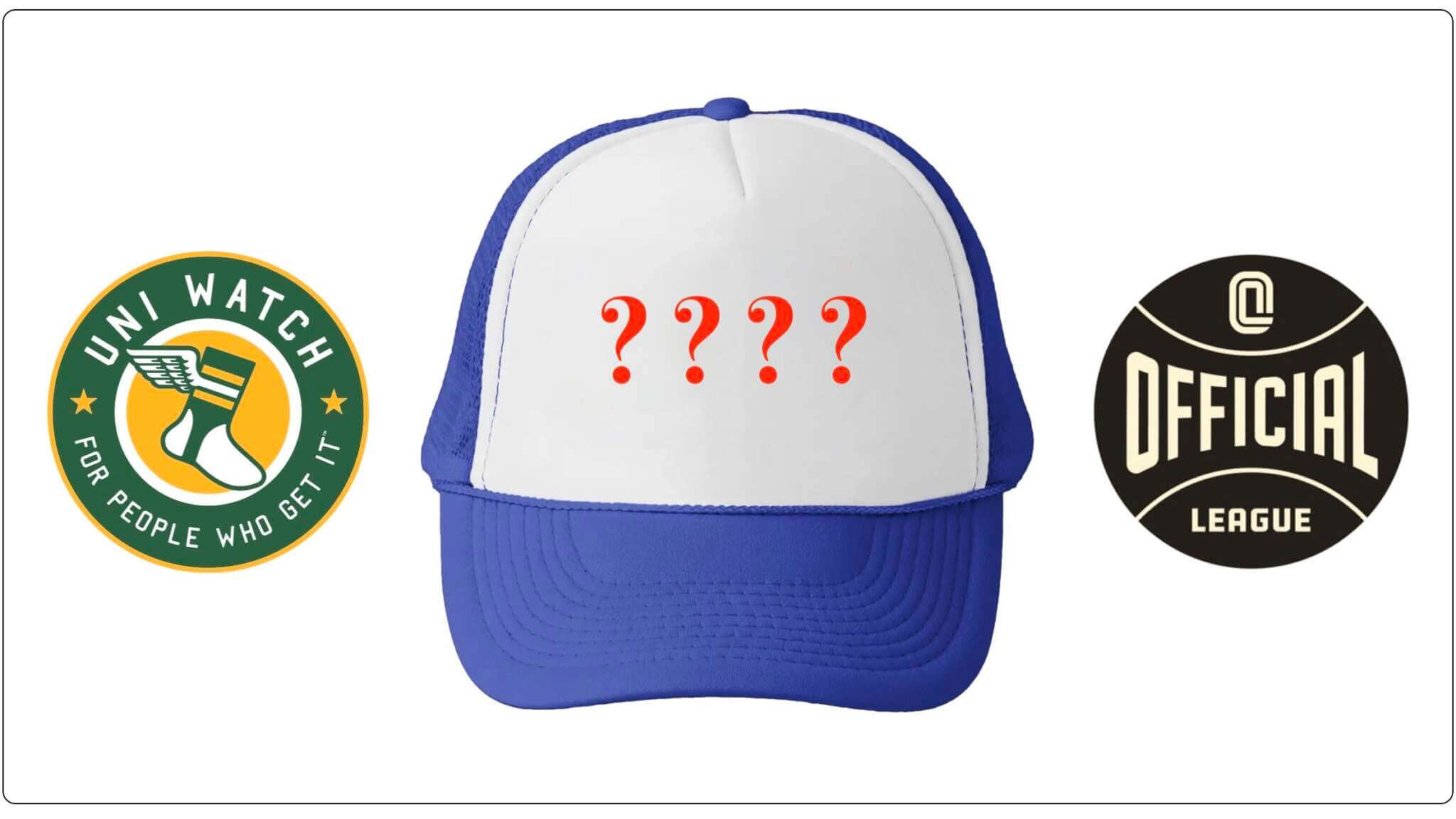 In case you missed it last week, I partnered with the Cap Brand Official League in a competition to design an unofficial USMNT cap for the upcoming World Cup. full details here,
covid update
As I mentioned on Friday, I am currently dealing with the second case of COVID. I felt quite lethargic on Friday and Saturday but better for most of the day yesterday – not 100%, but a lot more exhilarating. Had some really bad cough last night, though, so I'm clearly not out of the woods yet.
Mary, thankfully, is still fine.
The worst part about all this is that I'm stuck at home during a series of beautiful September days. It's nice to sit on the porch, but it's not an option to be out and about – grrrrr. The only upside is that I have plenty of time to work on a bunch of Uni Watch evergreen blog posts that I was meant to tackle. The NHL season also started on preview. So while my weekend wasn't fun, at least it was productive. You will soon get the fruits of my hard work. , Paul